The VM-Graphic System Difference
There is a reason top brands choose the VM-Graphic System. Every product we manufacture is designed for optimum synergy using high quality materials. We are proud that our brand is known for our dedication to consistent quality and high performance in the field.
Our VM-Graphic System product line for POP / Retail applications is available exclusively through our Direct Sales Channel network.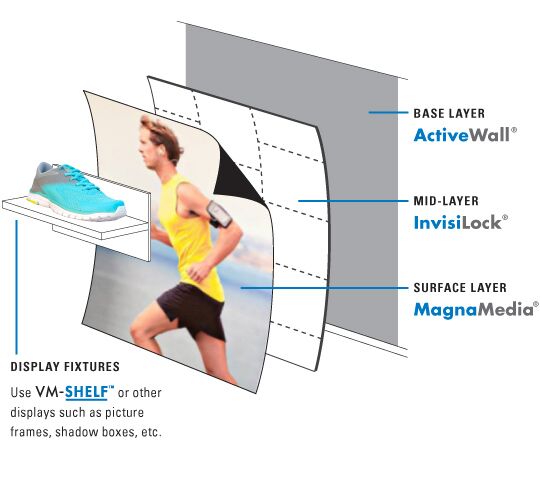 ActiveWall – Our high strength, commercial grade magnetic receptive Micro-Iron® based primer for wall surfaces. An essential component for all direct to wall VM-Graphic Systems applications.
Learn more about ActiveWall
InvisiLock – Our line of patented flexible magnet, acts as a backer for MagnaMedia. InvisiLock magnet products are specially engineered for optimized strength, lay-flat graphic 'magnetic adhesion' and InvisiLock *fixture capabilities.
Learn more about InvisiLock
MagnaMedia – our award winning magnetic receptive print media,  comes in over 10 unique finishes, including high quality films, economy options, and specialty finishes such as veneers, fabrics, chalkboard and more.
Learn more about MagnaMedia