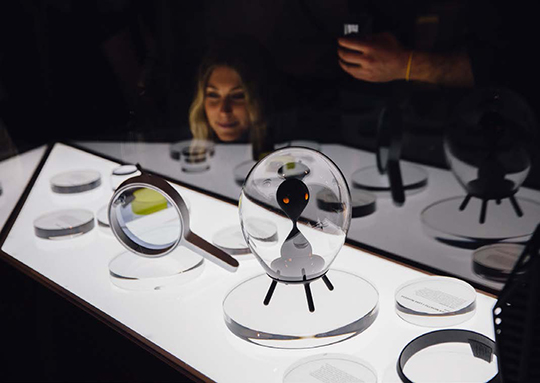 Evolving Showcase Display Houses Futuristic Conceptual Designs by Industry Stars
NOOKA ZONAL, WantedDesign, NYC – Futuristic watch brand NOOKA's ZONAL exhibit premiered at the WantedDesign show in New York City from May 16–19, 2014. Taking inspiration from the vedic chakras, the ZONAL exhibition featured designs for each one of the seven zones in the human body, extended to the world. Several prominent design stars including NOOKA founder Matthew Waldman, Marc Thorpe, Joe Doucet, Paul Loebach and Rem D. Koolhaas designed conceptual products that expressed NOOKA's philosophy of optimistic technofuturism.
While constructing the exhibition case, a polygonal, diamond shape fixture, NOOKA founder Matthew Waldman reached out to Visual Magnetics to provide a changeable fixture wrap that could transform the look and feel of the exhibit each day of the WantedDesign show. Three unique fixture wraps were designed and printed on Visual Magnetics MagnaMedia®. The designs were layered onto the fixture so that each day of the show, one of the wraps could be removed to reveal a new, branded layer underneath. The result was a stunning, transformative exhibit with a different but equally intriguing look for all three days of the show.
The fixture graphics were printed and wrapped so that there were no visible seams. Small layers printed with exhibit details and sponsor logos were made for the exhibit, but could easily be removed or moved around to achieve a desired look. "We wanted to create something that could change throughout the show. Visual Magnetics empowered us to create three unique designs that could express our brand in different ways. The design of the fixture case transformed easily, without having to install new media at the beginning of each show day," says Matthew Waldman, founder and chief creative at NOOKA.
View a pdf of this case study here.