VM-Graphic System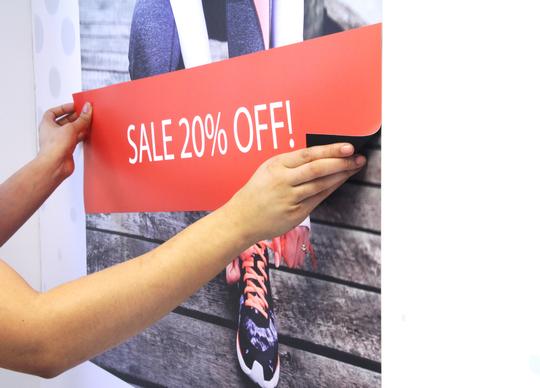 In retail stores, our award-winning Visual Magnetics Graphic System is used by over 300 leading brands as a cost effective solution for graphics. Our flagship product provides changeable, easy-to-install solutions for lifestyle imagery, wallcoverings, changeable signage, point-of-purchase graphics, fixtures and more. Using our materials, retailers can be more agile than ever before.
Graphics are easy to install and can be rolled-on by store-level employees. Because they can be stored and shipped in a tube, retailers are no longer forced to accept costly shipping and labor-intensive installations as the industry standard for changeable graphics. At the end of their lifecycle, graphics can be recycled through our Recycling Program.
The VM-Graphic System uses a high strength, commercial grade magnetic receptive Micro-Iron® based primer called ActiveWall®, a patented flexible magnet backer called InvisiLock®, and magnetic receptive line of print media called MagnaMedia® to provide a versatile solution for graphics and décor (see How It Works). Our Renew Initiative ensures all system components are 100% PVC-free, and many of our print substrates made from 100% natural or post-consumer bases.
Find out more about How It Works.