Fixtures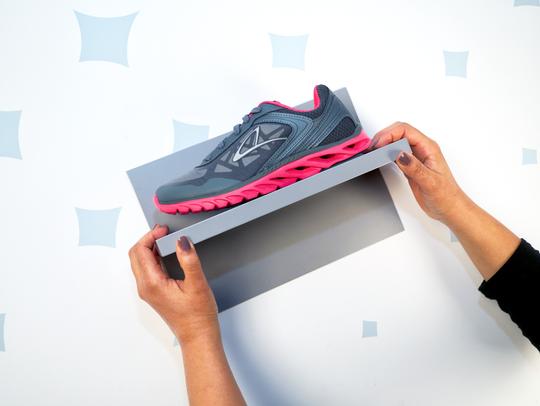 Our patented InvisiLock® magnet system allows you to place dimensional objects on a wall with graphics without harming the wall or graphic surface, since the system works without adhesive, nails or screws. A dimensional object outfitted with InvisiLock can be moved around with ease and locked into position after being placed on a wall with a graphic image on it.
The science behind the InvisiLock system leverages a grid of magnetic poles to allow objects backed with the product to move around and lock into place when applied to a wall or another large surface also fitted with InvisiLock. The InvisiLock® magnet system was developed by Visual Magnetics founder and CEO Joe Deetz, the inventor of magnetic paint.
In 2015, Visual Magnetics launched two custom, modular fixturing products for retail merchandising and corporate office design, VM-WALL™ and VM-SHELF™. Both products are part of Visual Magnetics' commitment to offer innovative magnetic design solutions to retailers, architects and brands that leverage the company's patented InvisiLock® system and award-winning magnetic receptive VM-Graphic System.
VM-WALL™ gives retailers the power of the VM-Graphic System in an all-in-one solution. This freestanding, modular wall panel system comes prepped with all of the system base components, and is shipped ready to accept Visual Magnetics' print media and compatible magnetic fixtures like VM-SHELF. VM-WALL provides endless flexibility in merchandising for retail windows and interior walls. Entire displays including graphics, shelving and 3D visual elements can be transformed without adhesives or additional hardware. Download the VM-WALL data sheet.
VM-SHELF™ is a first-of-its kind modular, magnetic shelving system that simplifies merchandise displays?in retail settings. This innovative system can be locked anywhere on a VM-WALL or VM-Graphic System surface using Visual Magnetics' patented InvisiLock magnet technology. Shelves are easy to apply, reposition or remove by retail staff without the need for tools, adhesives or additional hardware, giving fast-paced retailers, like footwear brands, added flexibility and performance. The aesthetic components of VM-SHELF can also be tailored to fit any branded environment using a combination of ready-to-go finishes from Visual Magnetics' catalogue of print media, and a range of custom sizes and solutions. Download the VM-SHELF data sheet.
We sell an adhesive version of our InvisiLock magnet that can be used for fixture or furniture applications without the magnetic primer. Visual Magnetics is also the exclusive North American distributor of the innovative CubeLock system, which uses Visual Magnetics' materials as a modular merchandising and fixturing solution.