Papa Murphy's Pizza Menu Board Case Study
The state of California's menu labeling laws have undergone significant changes over the last two years, presenting great challenges for many of the restaurants that must transition to meet the evolving standards. For example, California Health and Safety Code Section 114094, which took effect on July 1, 2009, mandated that food facilities with 20 or more locations within the state are required to disclose more comprehensive nutritional information, including calorie count, on menu boards.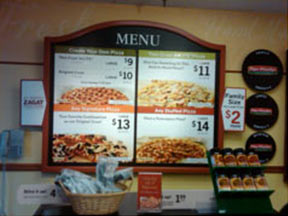 These changes were in large part the catalyst for Papa Murphy's International's decision to revamp its menu board. Papa Murphy's is the largest take 'n' bake pizza company in the world and fifth-largest pizza chain in the U.S. With over 1,300 stores in 37 states, 147 of which are in California, the company wanted to find a way to effectively comply with these new requirements while achieving the following goals:
1. Simplify the menu's product list
2. Add more beautiful product photography
3. Showcase customer favorites
4. Easy to update images and prices
5. Accomplish all the above with little hassle or additional expense
Rastar Business Communications, a Transcontinental Company, was tasked with finding the solution for Papa Murphy's. Kae Lynne Nielson of Rastar had worked with Papa Murphy's in various capacities for close to 20 years and thought that a solution from Visual Magnetics - which matches magnetic-receptive technologies with high-quality print media - might hold the key to upgrading the menu boards in the most efficient way.
Visual Magnetics' technology enables the creation of photo quality in-store graphics that can be updated effortlessly. Its Visual Magnetics Graphic System™ can be tailored to meet a wide array of changeable graphics needs and is engineered to be ultra-low profile, allowing for multi-layering of images while giving the seamless appearance of a single layer print. Sample menu boards were designed using the Visual Magnetic products and were sent to Papa Murphy's Pizza.
"Visual Magnetics' technology seemed like the obvious choice to use in upgrading Papa Murphy's menu boards," said Nielson. "In addition to enabling graphics to be changed more easily and cost effectively than ever before, Visual Magnetics Graphic System allowed us to create a unique, customized in-store display for Papa Murphy's that looked stunning. There is nothing else on the market that compares to Visual Magnetics in terms of matching quality with ease of use and cost effectiveness – and my client was immediately hooked once they saw the samples."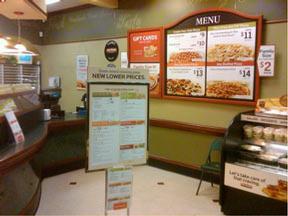 The Visual Magnetics Graphic System components include ActiveWall® Micro-Iron™ wall primer, MagnaMedia® Micro-Iron coated print media, and InvisiLock custom engineered sheet magnet, which may be applied to virtually any surface, incorporated into frames and fixtures, or mounted directly to a wall. Once InvisiLock is applied, users can simply roll graphics printed on any MagnaMedia to achieve instant, high-quality signage and displays. Visual Magnetics' MagnaMedia is so thin that when combined with the properties of the InvisiLock magnet, it is possible to create multi-layer graphics to update images instantly for specific promotions, without the use of frames, fasteners or adhesives. Visual Magnetics provided the ideal media option to create the new Papa Murphy's menu boards.
Papa Murphy's has found the retrofitting process to be extremely simple; the existing price chips were removed and InvisiLock hi-energy panels were put in place to make the boards magnetic. Panels of Visual Magnetics' MagnaMedia VM-POLYeight™ 12-mil magnetic-receptive glossy polyester film were used to create photo quality product images with a variety of overlays. Rastar then created an online system for each store to order menu boards that best fit their specific needs, and created two distinctive packages to choose from depending on the store's menu size. To date, 600 stores have switched to Visual Magnetics' displays and the remaining 700 are expected to successfully transition by November 2011.
"Choosing the right media was pivotal to the success of such a large-scale retrofitting project," said Nielson. "Visual Magnetics appeals to everyone involved in the various phases of the process: the press operators enjoy working with it because it runs beautifully and lets them print detailed, high quality graphics; the franchise owners love the look of the menu boards and have greater flexibility to update in-store displays more regularly; and it's easy for the employees to update the menu boards themselves with flawless results."
The use of Visual Magnetics has reinvented the way that Papa Murphy's is now creating in-store displays. The company is not only using Visual Magnetics to more easily update its menu boards with nutritional information, but also to create a more customized feeling for its stores on a seasonal basis; it has now become so effortless and cost-effective to update signage that a unique experience can be created for the customer almost every time they come into a Papa Murphy's store.
"We initially began the task of changing our menu boards primarily to comply with new state laws, but after being introduced to Visual Magnetics, we found many more exciting reasons to refresh our look," said Sandi Burgstahler, Field Implementation Manager for Papa Murphy's. "Using Visual Magnetics media, we can now update our in-store signage and menu boards faster and more easily than ever before, giving us an opportunity to create a more dynamic experience for our customers by regularly updating our graphics to highlight different products each month and to take advantage of the themes of each season."
Papa Murphy's has just launched a remodeling schedule for its older stores. As part of the plan, the company plans to incorporate Visual Magnetics' media for three large format product photos displayed on lobby walls.