Visual Magnetics' New Digital Fabric Recognized at 2011 SGIA Expo Product of the Year Award Competition Compares 98 Entries in 21 Categories
Mendon, MA, October 21, 2011 – Visual Magnetics®, developer of the revolutionary Visual Magnetics Graphic System™ that matches magnetic-receptive technologies with high-quality print media, has been honored again with the Specialty Graphic Imaging Association (SGIA) Product of the Year (formerly DPI Product of the Year Award) in the Textile Media category for its VM-Canvas™ 22 at this year's SGIA Expo in New Orleans. The competition recognizes the latest equipment and supplies currently on the market that are advancing the specialty imaging industry. The 2011 award compliments three other DPI / SGIA awards Visual Magnetics received in recent years.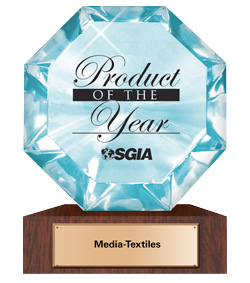 VM-Canvas 22, which was debuted at the SGIA show (see related release here), is one of the first products in Visual Magnetics' newly launched MagnaMedia® Digital Fabric Collection, which brings warmth and luxury to the in-store experience by adding unique, textured surfaces to graphic content. VM-Canvas 22 is a 22-mil, 100% cotton, magnetic receptive canvas with a luxurious, soft matte, washable, textured print surface ideal for producing woven fabric-textured photo reproductions, wall murals and fabric based POP signage.
"We are excited that VM-Canvas 22, has received this prestigious honor from such a well-regarded organization as SGIA," said Joe Deetz, CEO of Visual Magnetics. "This award is certainly a testament to the product's quality and we are pleased to be able to offer it to our customers as we grow our MagnaMedia line. The unique properties of our new digital fabric will enable the creation of stunning, fabric-textured graphics that, like all of Visual Magnetics' products, can be updated effortlessly."
Thirty-eight companies from around the world entered the competition, submitting 98 entries in 21 categories. Evaluated during the 2011 SGIA Expo (New Orleans, October 19–21), this year's submissions represented some of the industry's most innovative digital products. Visual Magnetics VM-Canvas 22 was printed by McCoy LTD using their Inca Onset S40 printer distributed by FujiFilm North America Corporation.
"The Product of the Year Award Competition highlights the best technologies and consumables from the specialty imaging community," said Jeff Burton, SGIA's Digital Printing Analyst. "Entries were so good that judging category winners was a real challenge."
A recap of the 2011 SGIA Expo — including the complete list of Product of the Year Award winners — is available online at SGIA.org.
About Visual Magnetics
Visual Magnetics is the creator of the revolutionary patented large-scale graphics system that matches magnetic-receptive technologies with the highest quality print media - empowering brands to create dynamic in-store experiences that can be effortlessly updated. Four-time winner of the DPI / SGIA Product of the Year Award, the easy-to-use Visual Magnetics Graphic System™ features the patented Micro-Iron™ MagnaMedia® printable films to produce stunning photo-quality graphics that enable design flexibility and allow for multi-layering of graphic panels. MagnaMedia works on all printing platforms, the process being no different than any other papers or films, and is as easy to install as simply rolling down the graphic – substantially lowering or eliminating installation costs while giving a professionally mounted appearance. MagnaMedia also rolls easily for increased savings in shipping. The Visual Magnetics Graphic System is fully recyclable. Follow Visual Magnetics on Twitter at http://twitter.com/VisualMagnetics. For more information, please visit www.visualmagnetics.com or call toll free 855.847.6244 (855.VISMAG4).
SGIA — Supporting the Leaders of the Digital & Screen Printing Community
"Specialty imaging" comprises digital imaging, screen printing and the many other imaging technologies SGIA members use, including those they'll tap in the future. These are the imaging processes and technologies employed to create new products and to enhance existing products including point-of-purchase displays, printed electronics, membrane switches, signs, advertisements, garments, containers and vehicles. Make the most of your specialty imaging business.
SGIA press releases and artwork are available at SGIA.org.
For additional information, contact:
Jordan Bouclin
SVM Public Relations
401-490-9700
jordan.bouclin@svmpr.com