Visual Magnetics' Digital Fabrics Win Wide-Format Imaging 2014 Reader's Choice Top Product Award
Mendon, Mass., April 1, 2014 – Visual Magnetics has been awarded a Wide-Format Imaging 2014 Reader's Choice Top Product Award in the Media: Fabric & Textile category for VM-Harvest™ 32, VM-Luna™ 14 and VM-Monarch™ 22. All three are from the company's line of eco-friendly, 100% post-consumer or natural-based Digital Fabrics, and won as breakthrough products and valuable assets to the wide and grand-format industry. The products will be featured in the April issue of Wide-Format Imaging. Voting was open to all print service provider shops worldwide in January and February 2014.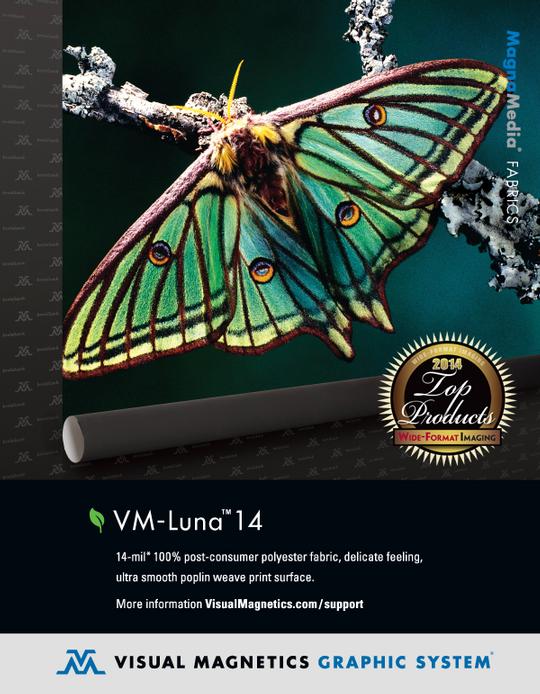 Visual Magnetics' Digital Fabrics Collection includes five versatile magnetic receptive fabrics that can be used as textured digital wall coverings to bring a luxurious look and feel to walls, displays and fixtures. They can also be used in layers with other media from the MagnaMedia® product line. VM-Harvest 32 is made from 100% natural jute and rubber, and has a coarse texture similar to burlap. VM-Luna 14 and VM-Monarch 22 are both 100% post-consumer polyester fabrics that have smoother weaves.
"Our digital fabrics are a unique, sustainable offering that give retailers, architects and designers the ability to easily change out wallcoverings. They can be used as stand alone décor, or layered with other MagnaMedia products like dry erase or wood veneer to show multiple textures," said Joe Deetz, CEO of Visual Magnetics. "We are so proud that our new fabrics are being recognized for their quality and versatility."
About Visual Magnetics
Visual Magnetics, creator of the patented large-scale magnetic receptive graphics system, has transformed the way over 300 major brands are approaching graphics. Visual Magnetics is the #1 trusted brand of magnetic receptive media worldwide, and the original inventors of Micro-Iron® technology, manufacturing high-quality films and fabric wallcoverings that can be effortlessly updated, rolled-on and applied to virtually any surface for use in retail, architectural, office and institutional applications. Visual Magnetics is also the creator of Dynamic Spaces™, a unique concept for wall-to-wall interactive environments with the versatility to adjust and evolve as needed. For more information please contact Naomi Mukai at pr@visualmagnetics.com or visit www.visualmagnetics.com.
Press Contact:
Naomi Mukai, Manager, PR
917-975-2660
nmukai@visualmagnetics.com