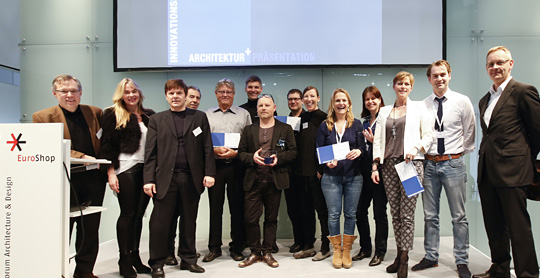 Visual Magnetics Wins a 2014 Innovation Award for Architecture and Presentation at EuroShop
Düsseldorf, Germany, February 18, 2014 – Six-time SGIA product of the year winner Visual Magnetics has won an Innovation Award for Architecture and Presentation in the Synthesis: Architect and Industry in Collaboration category at EuroShop 2014 for VM-ActiveWall® paint. This is the first time the materials innovation company has been recognized with a certificate at EuroShop. Entries were judged by a panel of renowned architects, interior designers and engineers, and winners were announced yesterday afternoon at a ceremony at EuroShop's Architecture and Design Forum. The award announcement will also be published in special issues of the professional journals AIT and xia Intelligente Architektur.
ActiveWall® is a ferrous (Micro-Iron®) latex paint used to activate wall surfaces, making them magnetic-receptive. The paint's content is designed specifically for use in dynamic wall space applications that use the Visual Magnetics Graphic System®. After the paint is applied, walls can be fitted with Visual Magnetics' InvisiLock® magnet. The InvisiLock magnet attracts to the ActiveWall primer, allowing ferrous (Micro-Iron®) graphics to be layered on and quickly changed without damaging wall surfaces. The paint is a commercial-grade version of MagnaMagic®, the world's original magnetic paint brand and CEO Joe Deetz's first invention in the Visual Magnetics' product line. VM-ActiveWall enables architecture firms and designers to transform environments and create dynamic, changeable concepts for whole walls.
"VM-ActiveWall is an integral part of our Dynamic Spaces™ concept, which utilizes our magnetic receptive ferrous paint and graphics to unlock ordinary walls and transform them into wall-to-wall interactive environments that can change based on functionality or aesthetics," said Deetz. "We are extremely proud to be honored at EuroShop, especially as we move towards bigger projects in the architecture and design industry worldwide."
Visual Magnetics is exhibiting at Hall 3, Stand B46 at EuroShop 2014 until February 20th, 2014 in Düsseldorf, Germany. Creative Director Tori Deetz will also be presenting a talk called "Hyper-Relevance: The New Expectation for Retail Environments" at the POPAI Forum on Wednesday, February 19 at 2:00 pm. For more information on Visual Magnetics, please visit www.visualmagnetics.com, or contact Naomi Mukai at pr@visualmagnetics.com.
About Visual Magnetics
Visual Magnetics, creator of the patented large-scale graphics system, has transformed the way over 300 major brands are approaching graphics. Visual Magnetics is also the creator of Dynamic Spaces, a unique concept for wall-to-wall interactive environments with the versatility to adjust and evolve as needed. Visual Magnetics is the #1 trusted brand of ferrous films worldwide, and the original inventors of ferrous technology. Our ferrous films and fabric wallcoverings produce high-quality, lightweight graphics that can be effortlessly updated, rolled-on and applied to virtually any surface for use in retail, architectural, office and institutional applications. For more information please contact Naomi Mukai at pr@visualmagnetics.com or visit www.visualmagnetics.com.
About EuroShop
EuroShop, The Global Retail Trade Fair in Düsseldorf is the world's most important capital goods trade fair for the retail trade and its partners, and also an indispensable platform for tangible future trends, visions and impressions. EuroShop 2014 will be open to visitors daily from Tuesday 16 February 2014 to Thursday 20 February 2014, 10:00 am to 6:00 pm. For more information, please visit www.euroshop-tradefair.com/.

Press contact:
Naomi Mukai
Manager, Public Relations
Visual Magnetics
917.975.2660
pr@visualmagnetics.com