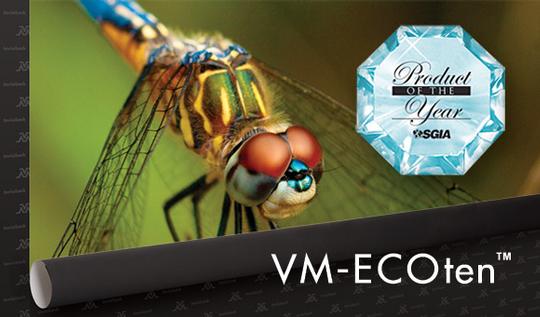 Visual Magnetics Recognized for Innovative Product at 2013 SGIA Expo with Product of the Year Award
Product of the Year Award Competition compares 102 entries in 21 categories
Orlando, Fla., October 24, 2013 – Materials innovation company and creator of the Visual Magnetics Graphic System® was honored at this year's SGIA Expo. VM-ECOten™ won an SGIA 2013 Product of the Year Award in the paper-based media for digital inkjet category. "This is the sixth year that Visual Magnetics has been awarded an SGIA Product of the Year Award. We are extremely proud to be recognized among so many innovative leaders in the wide-format industry," said Joe Deetz, CEO and President of Visual Magnetics. "We believe that the industry is transforming, becoming more innovative and more interesting every day. As a company, Visual Magnetics strives to be agile and keep up with these changes."
VM-ECOten is a magnetic receptive cellulose based substrate and is the latest addition to the MagnaMedia® Specialties Collection. With a 10-mil, 100% FSC and GREENGUARD Gold certified cellulose base with durable resin finish, magnetic receptive reverse surface and an ultra-smooth semi-matte print surface, VM-ECOten provides a natural white print surface made from sustainable forestry practices, and is ideal for producing high-resolution photo and artwork reproductions, environmental graphics and POP signage. Visual Magnetics' materials supplier Surface Links® has spent several years developing and bringing to market sustainable surfacing materials for the architecture and design market, as well as print. VM-ECOten is the result of a decade long relationship with Millie Graves and Joe Macedo, founders of Surface Links.
Fifty-five companies from around the world entered the competition, submitting 102 entries in 21 categories. Evaluated during the 2013 SGIA Expo (Orlando, October 23-25), this year's submissions represented some of the industry's most innovative digital products.
"The Product of the Year Award Competition highlights the best technologies and consumables from the specialty imaging community," said Jeff Burton, SGIA's Digital Printing Analyst. "Entries were so good that judging category winners was a real challenge."
A recap of the 2013 SGIA Expo — including the complete list of Product of the Year Award winners — is available online at SGIA.org.
About Visual Magnetics
Visual Magnetics is a materials innovation company centered on a versatile and sustainable graphics system with manufacturing based in the USA. Visual Magnetics is the creator of the revolutionary patented large-scale graphics system that matches magnetic receptive technologies with the highest quality print media. Six-time winner of the DPI/SGIA Product of the Year Award, the Visual Magnetics Graphic System® features patented Micro-Iron® MagnaMedia® printable media that produce stunning photo-quality graphics, and allow for design flexibility through multi-layering of graphic panels. For more information please visit www.visualmagnetics.com.
About Surface Links
Surface Links is a manufacturer of sustainable surfacing materials. Surface Links' patented surfacing technology combines design capabilities with performance and environmental responsibility for product applications.
About SGIA
"Specialty imaging" comprises digital imaging, screen-printing and the many other imaging technologies SGIA members use, including those they'll tap into in the future. These are the imaging processes and technologies employed to create new products and to enhance existing products including point-of-purchase displays, printed electronics, membrane switches, signs, advertisements, garments, containers and vehicles. The 2013 SGIA Expo takes place in Orlando from October 23-25. For more information please visit www.SGIA.org.
For more information, please contact:
Naomi Mukai
Manager, Public Relations
Visual Magnetics
917.975.2660
pr@visualmagnetics.com