Visual Magnetics Wins Product of the Year Award at 2012 SGIA Expo
InvisiLock® Magnet with Surface Protect™ Receives Prestigious Industry Recognition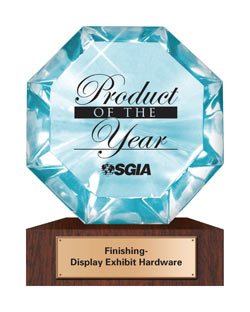 Mendon, Mass., October 23, 2012 – Visual Magnetics®, developer of the revolutionary Visual Magnetics Graphic System™ that pairs their patented, Micro-Iron® technology with high-quality print media, today announced that it was recently honored with the Specialty Graphic Imaging Association (SGIA) Product of the Year Award for its InvisiLock Magnet with Surface Protect in the Finishing - Display Exhibit Hardware Category at this year's SGIA Expo in Las Vegas. The competition recognized the latest equipment and supplies currently on the market that are advancing the specialty imaging industry.
"We are very proud that this is the fifth year that Visual Magnetics has been honored with an SGIA Product of the Year Award," said Joe Deetz, CEO of Visual Magnetics. "InvisiLock with Surface Protect will enable our customers and brand owners to create unique and attractive three-dimensional fixtures with our graphic system."
InvisiLock custom engineered sheet magnet is a flexible 30-40 mils thick roll or sheet magnet which may be applied to virtually any surface, incorporated into frames and fixtures, or simply applied to wall surfaces. With the addition of the white Surface Protect layer, InvisiLock can now be layered on top of graphics or light colored walls without concern about scuffing of the application surface.
Additional components of the Visual Magnetics Graphic System include ActiveWall® Micro-Iron wall primer and MagnaMedia®. Visual Magnetics' MagnaMedia is so thin that when combined with the properties of both the standard InvisiLock magnet and the winning InvisiLock magnet with Surface Protect, it is possible to create multi-layer graphics to update images instantly for specific promotions, without the use of frames, fasteners or adhesives.
Thirty-eight companies from around the world entered the competition, submitting 80 entries in 21 categories. Evaluated during the 2012 SGIA Expo (Las Vegas, October 18–20), this year's submissions represented some of the industry's most innovative digital products.
"The Product of the Year Award Competition highlights the best technologies and consumables from the specialty imaging community," said Jeff Burton, SGIA's Digital Printing Analyst. "Entries were so good that judging category winners was a real challenge."
A recap of the 2012 SGIA Expo — including the complete list of Product of the Year Award winners — is available online at SGIA.org.
About Visual Magnetics
Visual Magnetics is the creator of the revolutionary patented large-scale graphics system that matches magnetic-receptive technologies with the highest quality print media — empowering brands to create dynamic in-store experiences that can be effortlessly updated. Five-time winner of the DPI / SGIA Product of the Year Award, the easy-to-use Visual Magnetics Graphic System features the patented Micro-Iron MagnaMedia printable films to produce stunning photo-quality graphics that enable design flexibility and allow for multi-layering of graphic panels.
MagnaMedia works on all printing platforms, the process being no different than any other papers or films, and is as easy to install as simply rolling down the graphic — substantially lowering or eliminating installation costs while giving a professionally mounted appearance. MagnaMedia also rolls easily for increased savings in shipping. The Visual Magnetics Graphic System is fully recyclable.
Follow Visual Magnetics on Twitter. For more information, please visit www.visualmagnetics.com or call toll free 855.847.6244, (855.VISMAG4).
For additional information, contact:
Jill Colna or Jordan DeVita
SVM Public Relations
401-490-9700
jill.colna@svmpr.com
jordan.devita@svmpr.com