Transforming the PVD Lady Project Summit at ANCHOR into an Interactive,
Inspiring and Dynamic Event Space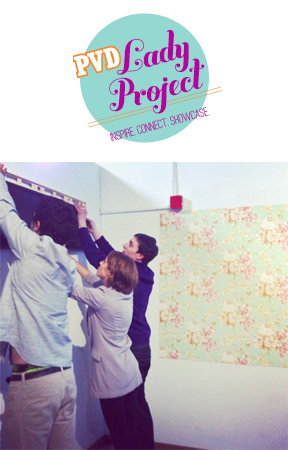 The PVD Lady Project is an inspiring organization that connects amazing women in Providence and showcases their stories. PVD Lady Project hosts monthly events that support a local association or
charity that either benefits women, or is led by women in the Providence community. Keynote speakers include fashion designers, restaurant owners and editors of magazines. 
Two inspiring ladies themselves, Julie Sygiel of Dear Kate and Sierra Barter of Clementine Lime founded the PVD Lady Project in 2011. Together, they envisioned an organization dedicated to remarkable women that would foster a collaborative and inclusive local community. Today, PVD Lady Project is a non-profit comprised of dynamic, young female professionals who are making an impact in the world. PVD Lady Project originally set out to position Providence as the ideal city for entrepreneurial women to start their own businesses because of its supportive environment, push for innovation and reputation as a creative capital.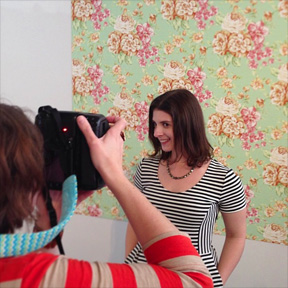 Recently, PVD Lady Project hosted it's first ever Summit event at ANCHOR, an adaptive 13,000 square foot space on the West Side of Providence. The event space was designed in a collaborative effort between Visual Magnetics and the Lady Project, featuring creative direction from Ms. Barter and Tori Deetz of Visual
Magnetics. The Lady Project wanted to create a temporary space that was engaging and interactive, and that fit with their event theme of inspiration.
To create a highly engaging event space that popped with pattern and color, Visual Magnetics designed floral and chevron wall covering patterns from panels of our MagnaMedia® VM-POLYmatte® film, which is ideal for producing high-resolution photo-quality images. Attendees stopped in between workshops and Jen Brister of Brister Photo photographed each person in front of the eyecatching backdrops. Visual Magnetics also donated an interactive, printable and writable chalkboard surface made from VM-CHALKboard™. The piece featured butterfly overlays, as well as handwritten and printed text. The printable and writeable surface transformed ordinary white walls into a collaborative surface where attendees could write their favorite quotes and inspiring messages, creating a vibrant, interactive and dynamic event space.
"Visual Magnetics donated creative, gorgeous backgrounds for our headshots- which made them special," Barter said. "The two patterned backgrounds provided a fun, quirky headshot backdrop for photographing attendees. The products were great for the space since they were easy to put up, removable and didn't damage the wall, which ANCHOR loved! The chalkboard inspiration wall was a great place for attendees to
take a break in the day and share their inspiration. The space organizers were super excited to see how easy the pieces were to put up, how great they looked and how easily they came off."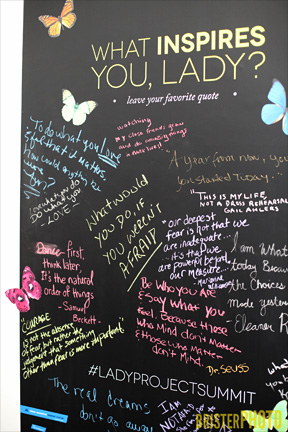 Because of the transformative and flexible nature of Visual Magnetics' products, we were able to change the ANCHOR event space into an inspiring, collaborative environment for the Lady Project, allowing attendees to express their creativity.
Earlier this October, the Lady Project launched the HVN Lady Project, which aims to create a similar community in New Haven. Visual Magnetics will be sponsoring the next PVD Lady Project Summit in 2014. For more information, please visit their website.